In life, I'm all about the little things. Little things add up to make a big difference, after all. But in my wardrobe
…
.
I could blame motherhood or life-juggling, but the truth is that I haven't had a knack for putting together complete and total outfits since, well, ever. Top covered + bottom covered = dressed?
Then I went to Ireland. Where I fell in love with scones and round towers and James Joyce and flats. Not apartments—shoes. At a store called Dunnes I found four pairs of adorable flats, and every last one fit my feet. (Note--I bought all four pairs and spent about $30...not Euro, dollars!)
You need to understand that I have short-wide (aka duck-foot-shaped) feet. I usually wear one to two sizes too big in shoes just so my wideness can have room. I'll have an inch or so in the toe but be breaking out the sides.
When my parents returned to Ireland a couple of years later, my mom asked me what I wanted as a souvenir. Flats. As many as you can fit in your suitcase.
May 1st started our Summer of Healthy Living, which means better eating, exercising, reading, praying, and (because I love to pile on the goals), for me, a challenge to play with my "look." I want to add accessories. I want to do stuff with my hair. I want to find a mascara that doesn't flake into my eyeballs. I want to experiment with color and texture.
At least two days a week, I am going to think outside my style box. Look—I bought a headband. Now you know I'm serious.
this post is linked up with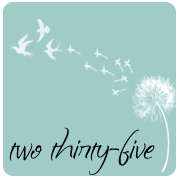 " />