I've learned this morning that it is incredibly difficult to write with a two-and-a-half-year-old sitting on your right arm. Why?
1) Truly successful typing necessitates movement of both upper limbs.
2) Concentration is difficult with a wiggly, talkative, snuggly, toddler companion.
But then I found the irony in the fact that I was writing on my book about praying for my children, as I was ignoring my eldest son.
Life is like that. I think sometimes our goal-reaching gets in the way of the heart of our goals. I want to write. I tend to write about my boys. And yet I sometimes miss out on quality time or great lessons from them while I tickity-tackity away on my laptop. I cannot abandon my writing dreams, but I do need to take a couple more breaks with Jack before he's too old to think sitting on my right arm is an acceptable communication of his affection.
So I clicked out of Microsoft Word, and we had a little photo shoot.
Playing with Jack when I have a lot on my to do list is
not
a waste of time.
"The most wasted day of all is that in which we have not laughed" (Sebastien-Roch Nicolas Chamfort 236).
Now, if you will excuse me, it is time to play trains.
Chamfort, Sebastien-Roch Nicolas. "Laughter and Smiles." The Merriam-Webster Dictionary of
Quotations. Springfield, Massachusetts: Merriam-Webster, 1992.
this post is linked up with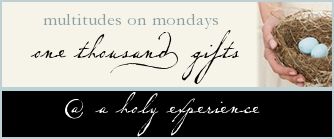 " />